So this probably seems obvious at this point, but a pair of cute headphones are a must!
I see so many people with the Beats headphones. They've been a trend a few years in the making. The first time I saw a pair was in a 2NE1 music video and a few months later they popped up in my high school hallways on the coolest kids. On my campus, they're pretty common along with the Beats earbuds. The price has kept me away.
So here are a few cheaper alternatives that still look cool to wear and keep you bass pumping.
One
$41
These are the headphones that I have!
I love them in turquoise. They come in a great box; the packaging makes them feel so sleek. The also come with a nice carrying case, but I don't use it. Apparently it stains quite easily.
I'm not an audiophile, but they do cancel out sound quite well for the price range. The amazon reviews should be quite helpful if you want a more intense review of the sound quality. All I can really say for my expertise is that I've used them plenty on planes and have always been fall  asleep despite crying children.
These headphones are quite comfortable to wear and look cute on. Having tried on the Beats, I really prefer the padding on these Incipio bands to the Beats'. People quite often comment on the unique color. In the winter they even keep my ears warm. My one complaint is that if it is windy, there can be a howling noise since the headphones aren't super tight on my head; this is probably due to the fact that my head is tiny. Very comfortable wear, so comfy that I sometimes forget I'm wearing them.
Skullcandy Aviator headphones
$150
A friend of mine has headphones by skull candy, the wooden style. The sound quality is quite good, or so he claims. I haven't the ears to tell. I like this style more; I don't know if it's because it's blue or the fact that these have a very cool vintage style. The wood style that he has seems to be more of a steampunk type of feel to me.
The Mix Style
The Mix Style headphones were very popular last year.
Obviously, the best place to get these are from the physical locations run by Mix Style. The next best would be YesStyle, which based on review are either very very good imitation or the real deal. Apparently the leather is a bit wrinkly and the plastic strap is quite fragile from YesAsia so I wouldn't suggest ordering from them, but it is much cheaper.
No matter where you're ordering from, these are not headphones for the people that love audio quality. They're for fashion, but will serve alright audio quality.
The Real Deal
:  They have stores in New York and Washington.
YesStyle looks to be the real deal
$70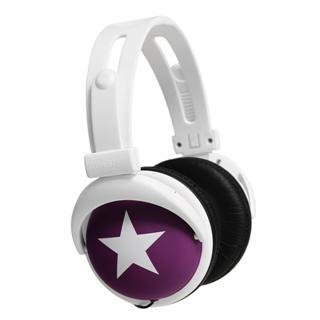 Yes Asia also has
these knock offs
(based on the price)
$50
Shinee
$17

And if you're into Shinee here's the perfect pair for you. Same style as Mix Style but with the Shinee logo rather than a star. Also super cheap so don't expect the most amazing quality.
Panasonics
$31
These Panasonics have a cute retro look and good sound quality. Apparently audiophiles say that these are overpriced for the sound quality. The adjustment is set up quite like mine, so likely for fit many head sizes, but apparently give a rather tight feel. I like the look of these but would suggest these only for people that don't intend to be wearing their headphones for a long period of time. These might be good for walking to and from campus: With a tight fit, they'll keep your ears warm and deliver decent sound quality despite the wind for you to love while giving a cute retro look for others to appreciate.
Hope that you find something that will make your music loving days super fun and fashionable!